HOW MUCH DOES A SMALL INGROUND POOL COST?
How did you arrive at this question? Did you start by looking for the cheapest inground pool cost? Or did you look at the size of your yard and say, "I need a mini inground pool"? Or perhaps you wondered about the smallest size of inground swimming pool you could get. No matter where you started, you're not alone. There is a large community of homeowners for whom small makes sense. To answer "how much does a small inground pool cost?", we'll cover what we know best: inground fiberglass pools.
Forget "go big or go home." You may be right at home with a small fiberglass pool. 
Small pools are perfect for a number of people, for a number of different reasons: it may be that you have a small family. Or you're a light user – maybe you travel a lot. You might have a small backyard space, and you want to get creative. Or you might just want the lower maintenance that comes with a smaller pool. What you probably have in common with other users is you just want a place—right outside your back door—to enjoy with others or on your own.
Small doesn't mean fewer options. 
Fiberglass pool designs have evolved to match the wants and needs of today's homeowners. The breadth of designs, shapes, features and options truly make shopping for a small inground pool a personal experience. 
You've learned a bit about the benefits of a smaller fiberglass pool, so let's give you some ideas for what those might look like.
Warning: these great small pool ideas might shock you!
The Pearl is perfect for the social butterfly or sun seeker. At 15' x 25', with a generous 12- inch deep lounging area that leads to a soaking depth of 3'9", it can fit comfortably into a small backyard space. The not-so-deep-end is surrounded by wrap-around beverage benches, perfect for conversation or having a quiet moment to yourself at the end of a long day. The Pearl is a terrific marriage of form and function.
Despite being a bit under 20 feet in length, the Sea Turtle is big on fun. It's a medium-depth pool, with a rectangular design that features bench seating flanking the entry steps. It's a fantastic choice for the homeowner who wants to enjoy the pool, have a good conversation and relax in comfort. The 4'6" flat-bottom depth throughout maximizes the game-playing and socializing potential of Sea Turtle, so you can take your (small) party into the pool. The elongated benches make a cozy spot to sit and visit. And Sea Turtle is swim jet system-ready, so if you want to turn your backyard oasis into your own personal swim spa and get some great exercise, Sea Turtle is a great small pool for you.
​​Lil Bob is built for fun and games. He's a sturdy little guy who's ready to party hearty at a moment's notice. With a 4'6" flat-bottom uniform depth, LilBob is ideal for games and just splashing around. The full-length entry steps make it easy to enter and exit out of the pool for everyone, whether they're seven years old or 70 years young. Pets love it, too!
Sun Day's flirty curves will beckon you to come outside and play. The 12-inch deep sun shelf gives you a luxurious spot for soaking your cares away while the adventurers in your group can swim laps and play games in the large open area.
Aspen gives you the best of both worlds–plenty of room to swim and play and a dreamy, spacious tanning ledge to unwind you're done. The 12- deep tanning ledge has plenty of room for two ledge loungers while leaving space for little ones to splash on the ledge next to you. The courtesy ledge around the deep end gives you a sweet spot to stand with water up to your shoulders, while socializing.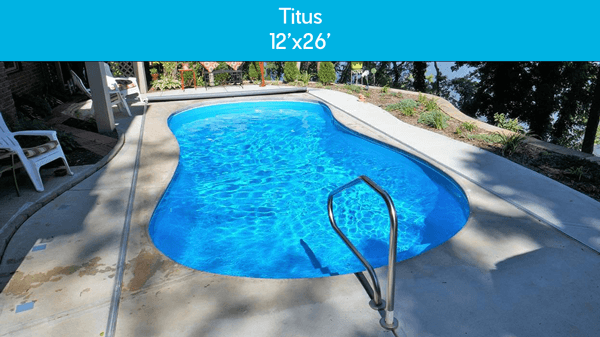 Titus is a freeform-shaped pool, and its curvy shape adds a playful element to your backyard oasis. Titus is ideal for water aerobics, so it offers a fantastic alternative to the stuffy gym on a hot summer day. And the beverage bench will soon become your favorite post-workout spot to reward yourself and take a well-deserved moment to relax.
Weigh the pros and cons of small pools and you be the one to judge whether or not there really are any cons!
Small pools are flexible, easy to incorporate into an array of backyard landscapes and come in a variety of shapes and sizes. They include spas, wading pools and plunge pools. They do not accommodate large crowds and they are typically not as deep. You should take note – this doesn't mean that a workout is out of the question. Some small pools are perfect for a tether and jet swim system.
Small Inground Pool Cost
One of the biggest pros for many buyers of a small pool is its lower cost. It's lower in installation and lower in maintenance cost. To come up with a ballpark installation estimate, let's ask "what size is a small pool? And what is the average cost for a small pool?" The Sea Turtle is a good example to use. A good rule of thumb for inground fiberglass pool installation is $1,500 per linear foot, so for this 19.5' pool, installation would be approximately $29,250. Of course, there are factors that will affect installation cost, but that's a figure to work with as you budget.